Free waterfowl fair on Sept. 10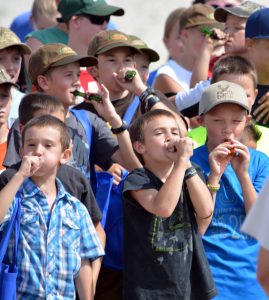 Farmington -- If riding in an airboat and learning the basics of duck hunting sound like fun, you need to be at the Farmington Bay Waterfowl Management Area on the morning of Sept. 10. That's the day the 12th annual Utah Youth Waterfowl and Outdoor Festival will be held. The free event, which includes a free lunch provided by Camp Chef, runs from 8 a.m. – noon. Adults are invited to the event, but only those who are 15 years of age and younger can win prizes or get a free duck call and duck decoys. Youngsters who want a free duck call should plan on arriving close to 8 a.m. Calls will be given away until the supply runs out. Free duck decoys will also be given away. In addition to eating lunch, learning more about duck hunting and getting some free swag, the following are among the things you can do at the fair: -  Ride in an airboat. You can also ride in boats that are powered by engines called "mud motors." Boat rides run from 9 – 11 a.m. -  Learn how to call ducks. Utah state duck calling champion Brett Wonnacott will teach you how. -  Paint duck decoys. -  Watch trained hunting dogs in action. -  Climb a rock wall. -  Shoot a bow and arrow, and an air rifle.
Several groups have come together to make the event happen. They include Cabela's, Camp Chef, the Division of Wildlife Resources, Fowl Minded, Sportsman's Warehouse, Sportsmen for Fish and Wildlife and Widow Maker Boats. For more information about the event, and a full list of partners, visit www.utahwaterfowlfair.com.