On a cold Saturday morning at 5:00 AM the first UCWF Chukar Challenge began in Baker, NV.  The day started with a buffet breakfast and ended with a great country dinner of roast beef with all the trimmings but we possibly should have served up crow instead. We had about 25 participants from Idaho, Nevada and Utah who all indicated they had what it took to get a limit of chukars before the 5:00 PM deadline.  Some of the best chukar hunters in the region signed up to see who would walk away with bragging rights for the next year. As the first groups started to come back in from a day in the desert, it started to become obvious that this wasn't a normal day to hunt chukars.  Team after team returned only to tell us that they saw very few birds and nobody had gotten their limits. By 4:30 all but one team had returned and between all of them, only 1 bird had been harvested.  As the 5 o'clock deadline approached, the last team arrived (they were also the first ones to leave). Josh and Riley showed the rest by bringing back a limit each to win the challenge for this year. If any of you know Riley Galt and Josh Morris, you know that it wasn't a surprise they got their limits but they almost didn't make the deadline because of a surprise snowstorm that had slowed traffic down to a crawl on the way back.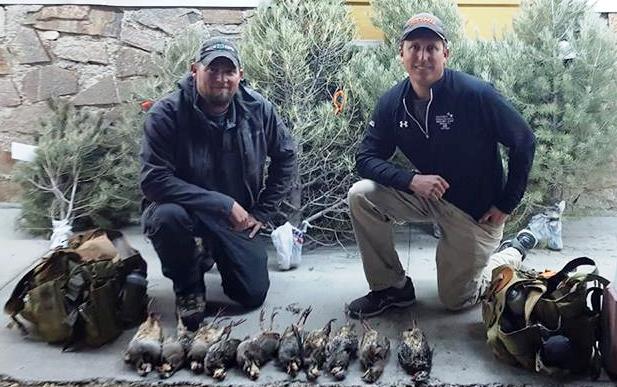 Great job guys and thanks for all that participated. Can't wait to see if some of you have what it takes to take the challenge from Josh and Riley next year.
Rules:
Start Check in at the Border Inn on Saturday morning between 5-7 (MST) AM

You must possess a valid Nevada and/or Utah hunting license

Hunting may only occur between 8 AM - 4 PM (MST).  You must have a photo of hunter(s) at the truck at 8 AM and a photo of final birds and hunter(s) at 4 PM or earlier.  

IF YOU DO NOT HAVE START AND END PHOTOS YOU CANNOT QUALIFY FOR THE CHAMPIONSHIP AWARD

Hunters must return and check in with birds and photos by 6 PM (MST) Saturday.  Check in will be available from 4-6 PM. Hunters touching the check-in table at 6:01 PM (MST) or later will be disqualified. (Watch those drive times!)

Dinner from 5:30-7 PM MST, awards, raffles and prizes 7-8 PM MST

Singles may hunt with only one dog on the ground at a time (you may switch dogs if desired)

Teams must leave and return to the Border Inn in a single vehicle and may only hunt with two dogs on the ground at a time (you may switch dogs if desired)

All birds harvested must include a time/date stamped picture (place birds near a phone or gps if your device doesn't have time/date stamps)

Record gps locations of each harvest.  Locations won't be released and will only be used if questions arise to clarify/justify

If your team's limit is reached, take two final pictures. One with all the birds and all hunters. The second picture should include a detailed close up of the birds, the gps coordinates and a time/date stamp. This will be used to declare a winner and/or resolve any irregularities.

A raffle ticket will be given for each bird harvested

Team limit is a 10 bird limit and single is a 5 bird limit. No hunter can kill more than five birds for competition purposes.

For limit championship, if there is a tie the earliest limit time according to final photo date/time stamp will win.

Hunting can be done on any public lands and harvested birds must be wild (no private lands or pen-reared birds.)

Both Utah and Nevada public lands are options if you have the appropriate licenses. Only a single hunter bag of five birds or a team bag of ten birds counts toward your competition total.

Fastest competition limit or if there are none, most birds harvested at the earliest time, will win a trophy/plaque, prize and be declared that year's "champion" for each division

All other prizes will be given through a raffle, more birds = more tickets/chances to win.

Should you encounter another team with a medical, veterinary or vehicle emergency you should stop hunting and assist. Your fees will be refunded for your kindness and you will receive extra raffle tickets---(You won't be cursed by the Chukar Gods).