2017 UCWF ANNUAL BANQUET AND FUNDRAISER - Saturday, February 25, 2017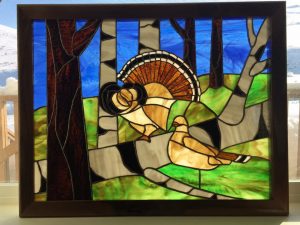 Come join the festivities at the Salt Lake Sheraton Hotel and enjoy a dinner of salmon or a filet and salmon duet with a salad and dessert.  The night will be filled with activities such as a live auction, silent auction, and various raffle/games for quality merchandise.  Raffle tickets will be sold at a minimum of 6 for $20 – the more you buy, the better the deal.  The door prizes this year will be a 20 gauge Escort Semi-Auto shotgun and another TBD gun.
Sheraton Salt Lake City Hotel 150 West 500 South Salt Lake City, Utah 801-401-2000
Sheraton Rooms – Usually discounted if reserved in advance call hotel for details.
Doors open at 5:30 PM, Dinner around 7:00 PM, Auctions and Raffles end at 9:30 PM
We again have a full house for the banquet. We appreciate all of your support and look forward to seeing you on Saturday. If you are still interested in attending, there are limited dinners available. Please contact Alan at 801.678.6574 to make arrangements.
2017 UCWF CHUKAR MOUNT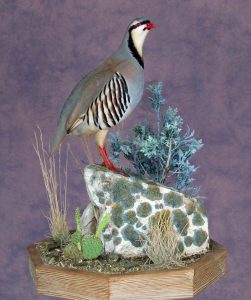 This is the 2017 UCWF Commemorative Chukar donated by Darin Gardner. He was harvested by Travis Proctor late last year and Travis was kind enough to give Darin this bird. Darin wanted to do a simple elegant mount to show off this beautiful specimen. And yes, that is a living breathing cactus plant in the foreground! He actually mounted this bird last year and competed with him at the Utah Taxidermy Competition and Art Show. This has been his highest scoring bird to date with a 97 out of a possible 100. He won several awards including Masters Best Bird, Taxidermists Choice Best Bird, Best of the West Award, and a gold belt buckle for best bird in the show. Darin says he is probably the best bird he has ever mounted. "It's going to be hard to give this bird up, but it's for a good cause. Someone will be taking home a true piece of art and a little chunk of my soul with this piece!" For the past 13 years Darin has donated a mounted bird to the Utah Chukar & Wildlife Foundation. He has provided a different bird each year and donates the mount to the UCWF for fund raising at their annual banquet. One ticket for a chance to win will be given for every $5 donated using the Paypal link below. The winning ticket will be drawn at the annual banquet held on February 25, 2017. Last year with the help from a LOT of generous folks the bird raised a little over $1100. Darin's website is located at: 
www.birdfishtaxidermist.com
DONATIONS
As a foundation we work hard to make the most of your donations. In 2015 we helped fund habitat work and biologist studies that support upland species. We also funded and installed guzzlers in the Central, Southern and Southeast regions. By combining our funds and volunteer labor with the UDWR and other organizations we can install nearly four times as many guzzlers as we could afford on our own. We are grateful to the UDWR, Water for Wildlife, the unsung Dedicated Individuals, and other supporting organizations/agencies that work with us to make such things happen. The Annual Utah Chukar & Wildlife Banquet is our primary fundraiser each year. If you don't get a chance to attend the banquet but would still like to donate to the UCWF Conservation Fund, you can use the Paypal link below to submit your donation. You can be assured that ALL of your donations will be used to support wildlife projects and studies here in Utah.
Thanks, Travis Proctor