SUBMIT YOUR HUNTER PROFILE
Before you read the profiles below please remember: We need your submissions too!!!
If you enjoy profiles as much as we do, please aid in their continuance by adding your name to the list. Below is a series of questions that are a guide to developing a profile. Or you can simply write a story of your own. Please answer them, and address any other subjects you like concerning our shared pursuits. E-mail the profile, along with a couple pictures to alan.smith@grousecreek.com or hard copy them to 5124 S. Ridgeline Dr., Ogden, Utah 84405.
We look forward to many responses to this request. Over the next few years we'd like to have each member profiled. Thank you all.
1. How long you have been hunting chukar? 2. How you got started? 3. How much time you spend hunting them? 4. What breed and number of dog/dogs do you have? 5. Why you chose that breed? 6. How your dog works out on chukar? 7. Other breeds you have hunted with? 8. What gauge and type shotgun you use? 9. What shot size and choke you prefer? 10. A general idea of where you hunt (nothing specific)? 11. An amusing or interesting anecdote related to hunting chukar? 12. How you got into the chukar foundation? 13. What you like most about the foundation?


RYAN SAUNDERS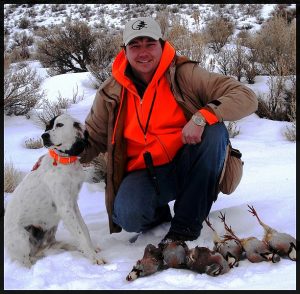 My name is Ryan Saunders and like the rest of you, I am a chukar addict. I live in West Haven, Utah with my wonderful wife and four children and two setters. I began the pursuit of upland birds on my grandfather's 80-acre farm in what was then called Kanesville. As a kid we didn't have hunting dogs or so I thought. Looking back my older brother and I were the dogs. We flushed and retrieved a lot of pheasants. The adrenaline rush of a cock pheasant exploding under my feet and cackling with all those colorful feathers started the addiction. Later I hunted with my dad and a friend of his brought along an Irish setter. After that we begged dad to get us a pointing dog and promised to feed him and work with him. You know, all the promises my kids break to me now. I was going to be 12 soon and I needed something to replace me as the dog. Not knowing anything about bird dogs we got a male English Pointer named Blue. Wrong dog for a novice, but what a nose! The addiction got worse.
Years later, I was reading an article in Field and Stream about the top towns for hunting different game and listed as the chukar hunting capital was Winnemucca Nevada. As part of our family business I was often in Winnemucca and had never realized bird hunting existed there. After some research I got invited on a real chukar hunt. My host gave me the warning: "The first time you hunt them for fun, the second time revenge." It was an odd year and the chukars were not where the host thought they should be. I saw one bird flush wild over a hill out of shotgun range in a full days hunt. It kind of skipped the for fun and revenge part and became a need. I needed to bag one just so I knew I wasn't insane for chasing things that didn't exist. Day two when my German shorthair went on point I was extremely skeptical but very focused. I finally bagged one of those @#!#$ devil birds!
Now completely strung out on upland addiction I follow behind two awesome English/ Llewellin Setters, hunt grouse, chukars, pheasants and even ptarmigan. The most challenging and rewarding hunt is the chukar. If you are new to the sport my only advice on dogs is get one and get one that points. It is so much fun to watch them work. Everyone has an opinion on breeds and the only right answer is the one that fits what you like best. Guns are the same and for what it's worth, I prefer a 12ga. Browning Semi-Automatic and 7 ½ 's for chukar and grouse or #6's on pheasants. The more lead in the air the better. I joined the UCWF after selling one of Daisy's pups to Dave's brother Troy. From what I know it's a great program.
One of my most memorable hunts was near Elko Nevada with my then one-year-old setter named Shadow. My older dog Daisy had hurt her foot and I was disappointed at the thought of leaving her, as she is the best hunting dog I have hunted behind or with. No bias in that statement. Anyway, I took a client to dinner and he must have liked the food because he got real serious at the end and said, "So you're going after chukar tomorrow?" "Yes", I replied. "Well promise you won't tell anyone," he demanded. Of course," I replied. I calmly reassured him, "don't worry I'll burn the map after I find the place". Every chukar hunter has taken the vow and tried to hide the excitement. You want to keep your game face on so they know they can trust you. Next morning with the work stuff out of the way I shot out to the spot like a horse to the barn. Let's just say it was good, real good. In an hour and a half my young dog was transformed from a good backing dog with an occasional find, into a chukar hound. The highlight came from a solid point by the young dog. Four birds launched into the air and three shots later four birds went down.
In closing, I would just love to say thanks to all of you who put your time and money into the UCWF. I believe this program is the real key to maintaining upland opportunities in Utah. With the loss of suitable areas for pheasants chukars are the future and if you like a challenge a whole lot more fun to hunt.


RICK WINEGAR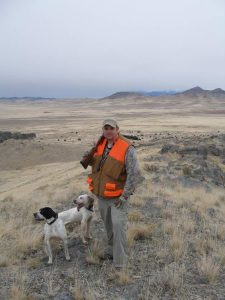 Hello fellow upland hunters!
My name is Rick Winegar, I'm 52 years young and live in South Jordan with my wonderful wife Tammy. We have three children, (two daughters and a son). All have fledged, and married wonderful partners leaving us to be "emptynesters".
My dad got me started hunting Upland Game at an early age. It was the early sixties in Eastern Washington when he first started taking me along on his pursuits of pheasant, quail, ducks, geese, and so on. I was hooked! Not so much because of the birds at first, but I loved to be out with the dogs! Dad raised and trained German Shorthaired Pointers through the sixties and early seventies.
When the family moved to Utah in the Fall of '68, I got right back into hunting pheasant again in Utah and Sanpete Counties. Later, friends and I started chasing Blues and Ruffs in the mountains above Kamas and Manti. Hunting Forest Grouse became a passion that I still enjoy today. It wasn't until years later that I would have my first encounter with the "Devil Bird".
After many years of being without a hunting dog due to "life's demands", in '99 my son Dustin (18 at the time) and I decided to get two GSP pups to train and hunt together. We did our research and in early 2000, we finally settled on a litter in Kaysville, UT. The litter had many champions in the pedigree so we were off and running. We spent that Summer and early Fall training our young prospects for the coming season. Well, as so often happens with young men Dustin's age, his interest turned to the young ladies and soon, I was hunting on my own.
In 2001 I made my first trip to the West Desert in pursuit of the "Devil Bird". Boy did I have a lot to learn! Like for instance "don't try to out run chukar uphill"! I knew right away these birds were different than any I had previously hunted and that we (the dogs and I) had a lot of work to do! After several trips to the West Desert, we finally bagged our first limit of chukar. It took a box of shells to do it that day, but hey…it was windy! Since then, chukar hunting has become a true passion for myself and our dogs. The scenery and the solitude are unsurpassed by any other type of hunting I've done! Every year we share a few hunts with friends and family but, for the most part, my hunting partners are the dogs. I cherish the time spent in the mountains and the desert with these two boys! "Rusty", our 5 year old male is a solid veteran of the "game" and his kennel mate "Buck" (3 years old) is coming along very nicely!
I believe chukar hunting in Utah is only going to get better! The work being done by volunteers (members of UCWF) is the key. These efforts, along with those of DWR biologists and students will help ensure a bright future for this magnificent game bird in Utah.
Take care all and God Bless!


JON SPICER
How's it goin' chukar hunters? I'm a twenty six year old chukar chaser, and I prefer to spend most of my hunting time covering ground in the west desert. Fortunately, I have been lucky enough to pick up chukar hunting while I have young hips, knees, ankles, and feet. Right now, I have two German shorthair pointers, and I wouldn't mind adding a third to the group in the next couple of years. Hades is my three year old pup, who tends to handle the majority of the bird hunting duties. My second dog, Marley, just turned one, and already has a chukar hunting season under her belt.
My devotion to the uplands was taught to me by my Dad, who took my brother and I on our first bird hunts. Those first hunts were in search of forest grouse with his yellow lab Rosie. We then moved on to other upland birds, and a black lab named Sammy. We managed to kill a bunch of birds over those two labs, but our hunts were changed forever when my Dad bought his first pointing dog. A French Brittany, named Scout. Soon after, I joined the pointing dog club, and got my first German shorthair. Along with the labs, our family now has two French britts, two shorthairs, and one wirehair. When we run all the dogs together it's quite a site.
It's hard to imagine there was a time when I didn't chukar hunt, but I was introduced to the sport only a few years ago. It was my first year of hunting with my German shorthair Hades, and we had spent it chasing a variety of different upland birds. Our first few months of hunting had gone well, but it was now December, and the chukar was the only bird left for us to pursue. Our search for chuks started off slow. Hades and I took four daylong hunting trips out to the west desert without even seeing a bird. I was beginning to think that chukars were a myth, but on our fifth trip out to the desert, Hades and I finally located a covey. We chased the covey around a bit, and eventually I managed to wound a chukar, and watch it sail to the bottom of a canyon. The pup and I hustled down the hill, and after some searching, Hades found our first chukar. Hades and I had never worked so hard to find an upland bird, but we had never been so happy to put one in the bag. Like many chukar hunters before me, from that point on, I was hooked. Nowadays, the pups and I find ourselves hunting chukars more than any other upland bird.
Hades and I started to get older and wiser, and as we spent more days in the field, we started to get better at finding coveys of chukar. I thought we were turning into quite the chukar hunting team. Only, there was a small problem. We were now seeing plenty of birds, but we weren't bringing as many home as we would have liked to. I blamed a lot of different things. At first it was the shotgun shells. So I tried switching to fifteen hundred feet per second shot shells. That didn't work, so I traded my twenty gauge over under for a twelve gauge auto. Of course that gimmick didn't work either. I once managed zero birds on twenty five shots, with my 12 gauge auto, loaded with high velocity shot shells. Eventually I learned that I was the problem, and this year I had my best season, shooting-wise, taking out my twenty gauge, over under, with regular field loads.
I am a brand new member of the Utah Chukar foundation, but I look forward to participating in the groups various projects. My first chance to contribute is going to be by searching for grouse leks this April. I appreciate that the Utah Chukar Foundation gives Utah upland hunters opportunities to do something positive for our upland birds.


JAY BANTA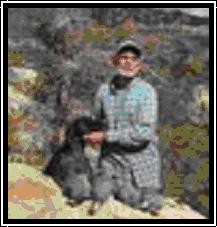 As the Refuge Manager for the Fish Springs National Wildlife Refuge, I am more fortunate then most chukars hunters because I literally have them both in front and in back of my house! Nearly every day, from about early August on we have chukars that show up around the houses and the office to take advantage of the landscape watering to get a drink and to forage. I have had more than once that I have come back from a tough and unsuccessful chukar hunt only to find a flock scurrying away from my lawn! The little beggars know where it is safe!
And while I have killed most of the chukars in my career chasing the "devil birds" as we call them here, around the west desert of Juab and Tooele counties, I killed my first many years before I have ever came to Utah. Way back in 1972 or maybe 73, when I was a student at Lassen Jr. College in Susanville, I went on a chukar hunt with a couple of college buddies. I had never seen one in the flesh before and I don't think I had even seen a picture of one. However I was aware that in the country we would be hunting, there were no other gallinaceous birds. So after several hours of walking up and down ridges and canyons (I could do that all day when I was 20!) I had some birds run (is that a clue or what!) out in front of me and I said "Those are gallinaceous birds!" Bang! And so it was I bagged my first chukar. I killed my first in Utah when I first came to Fish Springs as the Refuge Manager in 1991. I spent nearly a year there as a biological technician back in 1981 and 82 but I don't recall ever hearing or seeing a chukar during that period. If they were present in the Fish Springs range, there sure couldn't have been many.
How often I go chukar hunting depends on the productivity they have shown that particular season and how good the other upland hunting is. I am an addicted forest grouse hunter and fall back on chukars a bit later in the season. Last year, due to the very poor success I had locally in the 2007-08 season and knowing that the production was even worse in 2008, I did not go at all. I will generally hunt chukars about 6-7 days each season.
Historically, I have always hunted chukars with my labs. They would tell me when we getting close to birds and do a fine job of locating a downed one. This past year, in preparation for increasing my upland hunting activities soon, I bought a started Drahthaar. It is still a learning process and given the proclivity for the chukars in this part of the world to run and never stop once they know a hunter or dog is near, unless the topography forces them to hold up, I don't expect many points. We are both still learning this bird dog business but she has already found downed birds that I would never have located. I chose this breed because I still love to waterfowl hunt and they came highly recommended for both activities.
I hunt with a Franchi 620 20 ga. and generally shoot a 7/8 oz load of 7.5 shot for the early part of the season. Later on, when the birds are a bit more educated, I'll switch to some 1 or even 1 1/8 oz. 3″ loads to get a bit more range. I'm a pretty miserable shot at most anything beyond about 30 yards so I'm not sure the heavier loads make all that much difference but maybe they help the confidence a bit. So I occasionally surprise myself with a kill on one out a bit further!
I spend most of my time hunting in either the Fish Springs, Dugway, or Thomas ranges. Occasionally I slip down south and hunt with a favorite hunting partner, Bruce Bonebrake of DWR fame. He is better than the best damn bird dog at finding chukars so I just hang out and get lucky once in a while!
The old saying that "You hunt chukars the first time for fun and the rest of your life for revenge" is so often true. I took a first time chukar hunter out this year and after a steep chase and climb up to the base of what appeared to be an escarpment, only to find out they had escaped up a chute, he began to understand! We don't call them the "devil birds" for no reason! I often have duck hunters here ask me if there are chukars around and I always tell them, "Unlike duck or even big game information, my chukar location information is highly classified and never released!"
I found out about UCF through Randy Larsen when he and his field technicians were doing work in the Fish Springs range. I had thought about organizing a group to support upland game bird issues in Utah over the last 15 years but never got off the ground with the idea. The UCF provides a good forum to do that for all of our upland game birds and I look forward to being an active participant in interacting with the DWR and other government agencies in Utah to promote sound policy and practices that will benefit those species.
Utah is an extraordinary place to hunt upland game birds. I continue to work on my "Utah Life list" and lack only band-tailed pigeons and Gambel's quail to complete it. Those that know me know that my absolute unbinding passion in the outdoor is spring turkey hunting. I usually hunt at least two or three states and hope to expand that to four or five beginning next season.


ERIC THACKER
Hi, my name is Eric Thacker and I am a chukar addict; I like big running dogs that can handle a covey, and retrieve downed runners, and light fast swinging double barrel shotguns!!
Well ya see, it all began on a crisp November morning. The trip was supposed to be a pheasant outing with the Dahlgren brothers (Dave and Troy I know I should have known better!) but when we left the valley bottom and began driving up a canyon almost turned around and went home. I was new to upland bird hunting and had never shot a chukar and wasn't about to scramble up the hill chasing a few grey birds that weigh about a pound! I would only hike hills like that in order to shoot real game, like Mule deer.
When we stopped at the bottom of an enormous hill with ledges and slide rock I asked timidly "where are the Pheasants??? The cynical laugh from the Dahlgren boys answered my question. Reluctantly I put on my vest and grabbed my new over/under 12ga. Within minutes we located a covey and I killed my first chukar over the point of Dave's 6 month old short hair, Buddy!! I thought that wasn't too bad I only had a couple of hours to hunt but by the end of the hunt I had killed 3 chukars!! I told Dave "I could get into this chukar stuff." Again Dave laughed cynically and replied "the first time you hunt chukars it is for fun, but after that it is all about revenge" I was hooked; little did I know I would pay dearly for those three birds. It took me almost 2 years to shoot as many chukars as I had in that first hunt!
I grew up hunting big game and rabbits. My Brothers still think I have fallen off the turnip truck! I get more satisfaction from shooting a few hard earned chukars than about any other game bird, or any other game for that matter.
My first bird dog was a German Wire Haired pointer named Lizzy. She is now 5yrs old. I really enjoy my wire hair; I love their prey drive and versatility. I use her for everything from ducks to chuks, and she has a running tally on furred vermin as well! In the last year she has become a more consistent chukar dog, however she doesn't handle the heat of the early season too well. SO! To solve this problem I am trying some other dogs: a German short hair, an Elhew pointer and a Llewellin setter (yes I have 4 dogs). I currently use a 12 ga. over/under for all my bird hunting. It has 26' barrels and weighs in at 6 ¾ #s it is fairly light and it swings quick (most of the time). I have 2 basic loads I use Kent 3 ¾ dram #6's for chukar, pheasants and sage grouse and Remington premier 7 ½'s @ 1300 fps (my gold magic) for forest grouse and Huns. I am an upland junkie now; I prefer bird hunting to any other kind of hunting. There is a chemical release of endorphins in my brain every time I see a dog on point, especially when I know it is a chukar! This is the cause of my bird hunting addiction. My most memorable moment has to be the first time Lizzy handled a large covey of chukar. She was steady to flush even though the birds were running around in the thick sage as I walked in for the flush. I finished my limit off from that point and my buddy much to my dismay had the largest portion of the covey get up in his face and he missed all three shots.
The ultimate hunt to me is when you can take multiple species in one day. My favorite hunt was a Chukar/hun hunt last fall on no-tell-um mountain in Box elder county where we (Dave Dahlgren) were able to scratch down 2 limits of huns and 1 ½ limits of chukars all before noon, as close to heaven on earth as you can get.
I am currently pursuing a PhD of Wildlife/Range sciences at Utah State University, I am working with the Sage grouse in Western Box Elder county, and Anthro Mountain in Duchesne county. I love my job mostly because I use my dogs about 9mo of the year!
This quote from The Alchemist written by Paulo Coelho best describes my chukar hunting: "Every search begins with beginners luck and every search ends with the victors being severely tested!" "The Alchemist"


CALEB STROH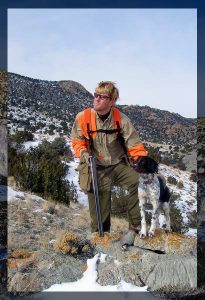 My love of chukar hunting didn't come from that first hard earned covey rise. You remember the one. Roving the expanses of the desert, alone and kindred with the wilds; a teenager ready for the thrill of the hunt. Following behind your trusty steed of a canine, when out of nowhere a flock of tan-grey bombers burst forth at your feet, shaking your very soul. If you manage to regain your composure, you'll fire a hail-mary load of hi-brass 6 shot downrange and find yourself admiring your first Chukar Partridge. You'll lightly cradle the plump little bird in your hand; a delicate, beautiful, and captivating gamebird, one you'll aspire to hunt again and again. Or so goes the story…
Not me though, oh no, my love of the game started much earlier. I remember it clear as mud matter of fact. We were returning home from a family outing when we suddenly found ourselves in a doozy of a fender-bender. When the smoke cleared they were hauling me off to the hospital with a nasty goose egg of a bump on my head. Yes sir, that's the day all sense was knocked from my head, which was subsequently the day I decided I'd like to take up chukar hunting. (And possibly the reason I use so many run-on sentences…) But nothing ventured, nothing gained.
I guess what intrigues me most about the Chukar Partridge, devil he may be, is the bird himself. His nature, his history, his biology, and his passion for life in the harsh places of the world. The foresight of a few fine outdoorsman and conservationists has given us a western bounty in an otherwise deserted wilderness devoid of gamebirds. And bless their pea picken little hearts; they're one fun bird to hunt! 'Course I define fun in a demoralizing, physically strenuous, mind numbing sort of way, so hunting chukar is downright exciting in my book. But there's more to this addiction than just the bird.
My first years as an upland enthusiast was spent dogless (and accordingly, much of the time birdless.) Come to find out a well-trained dog is a valuable asset; not only do I seem to get more birds in the bag, but I have a lot more fun doing it. I'm not really partial to one breed per say, but I do have a few prerequisites of what constitute a fine chukar dog. The ability to endure long strenuous hunts, a natural retrieve, and being able to get it done with some style and grace are normally at the top of my list. Now you'll rarely find me hunting without the companionship of a fine pup.
But companionship comes in two-legged varieties as well. I've had the pleasure of hunting with many great outdoorsmen, with a cornucopia of dog breeds, in a variety of chukar haunts. They all seem to share a similar passion. As a result I've coined the phrase "Chukar People." I've met them out hunting, via the internet, through training sessions and through conservation organizations. These are generally people that have a similar zeal for chasing these crazy little birds and generally are just a few bricks shy of a load. We get along great of course.
I was born and raised right here in Utah, and much of my younger years were spent traipsing through the wilds with B.B. gun in hand, learning the secrets of hunting, stalking, shot placement, and the habits and retreats of the animals I pursued. Boy, I tell ya, I was death on two legs.
A little over 5 years ago I started getting into hunting upland birds passionately. At first I was dogless, and then in 2004 I purchased my first hunting dog. The pup, affectionately named Gur, a Gordon Setter, spent the next two years roaming the venerable wilds of Utah in search of chukar, grouse, and pheasant. I couldn't believe what I had been missing all those years. Tragically, just short of her two year birthday, Gur was killed by a vehicle. I was heartbroken.
However the true nature of humankind once again revealed itself and through the selfless and passionate offerings of some fine friends and outdoorsmen, I was soon on the road to recovery and the proud owner of a new pup, Jonesy, also a Gordon Setter. She has been good medicine ever since. I am fortunate to be surrounded by such an outstanding, amicable, and noble group of friends.
I'll admit I spend a fairly good amount of time on these confounded computers, but doing so has opened up a world of friends and events not previously known to me. I became actively involved as a moderator on the Utah Division of Wildlife website, a member of NSTRA (National Shoot to Retrieve Association), and eventually a board member of The Utah Chukar & Wildlife Foundation. Somehow they've put up with me for almost two years!
The concept of hunting and conservation go hand in hand, and the UCWF is a fine marriage between the two. Here a group of passionate hunters and outdoorsmen, so intrigued by the chukar partridge, took it upon themselves to start doing guzzler maintenance, addressing upland regulations, transplanting birds, academically studying the Chukar Partridge, and overwhelmingly working to secure the future of Chukar Partridge and hunting in the fine state of Utah. While we still have work to do, we've come leaps and strides in securing that bright future.
It makes me proud to share the state, and my hunting haunts, with such fine folks. So passionate about a bird, little stinker that he is, that they are willing to wander all over tarnation, fighting for a something they love: the Chukar Partridge. 'Course it helps to have all sense knocked from your head….